For Multiple Area Watches, Warnings and Advisories issued by the NWS Sacramento,
Click Here
.
For Multiple Area Watches, Warnings or Advisories for California,
Click Here
.
Updated:

@
Summary / Temperature
Wind
Rain/Melted Snow
Cloud Level

Heavy thunderstorm





43.2°F





Feels like:




43°F




Temp rate:


-2.7°F


24-hrs ago:


47.2°F


24-hr diff:


-4°F

Temp:
Today
Yesterday
High:

44.5°F


12:00am
67.1°F
3:54pm
Low:

43.2°F


12:28am
37.0°F
6:42am
NWS:
High
Low
Normal:
66.2°F
33.8°F
Record:
89.6°F
21.2°F
Year:
1997
1986

SSE




0.0




Gust:

0.0

0

Bft -

Calm

60-Min Avg:
Calm
120-Min Avg:
Calm
Max Gust:

0.0 mph

5:33pm

Month:
14.0 mph May 17

Today:

7.26 in

Rate (/hr):

18.86 in

Storm Rain:
109.35 in
Yesterday:

102.09 in

May:

115.22 in

Last 7 Days:
102.28 in
Rain Season:1

128.33 in

Rain Days:
58 in 2016
12 rain days in May

Barometer ( inHg)
Humidity/Dew Point
Moon

Barometer:

29.807 inHg

1-Hr Trend:

Steady

3-Hr Trend:
Steady
High:

29.810

| Low:

29.800

Humidity:

84

%
Humidex:

41.2°F

Dew Point:

38.7°F

Wetbulb:

41.3°F

Waning Gibbous
73%
Illuminated

UV Forecast
Last Hour Difference

21 Oct 2016

Medium

4.4
22 Oct 2016

Medium

3.8
23 Oct 2016

Medium

3.7

Temperature: -2.7
Humidity: + 2
Barometer: +0.017

Wind Chill
Heating Degree Days
Sun

Current:

43.2°F

Today:

43.2°F

at 12:28am

Yesterday:
37.0°F
Last Week:
37.6°F
Record:
-9.0°F 13-Jan-2013

Today:
0.3
May:
351.1
2016 to Date:
3479.3
Cooling Degree Days
2016 to Date:
0.0

Daylight:
14:45
:05 Min

Almanac
Snow3
Station All Time Records
Fire Risk

| | |
| --- | --- |
| Sunrise: | 5:39am |
| Sunset: | 8:24pm |
| Moonrise: | 12:20am |
| Moonset: | 10:57am |
| Full Moon: | 21 May 2016 |
| New Moon: | 03:00 UTC 5 June 2016 |
| Current: | Moon age: 19 days,21 hours,56 minutes,73% |

Today:
0.00 in
Yesterday:
0.00 in
May:
0.00 in
Season Total:2
0.00 in
Snow Depth:
2.00 in
0 snow day in May
0 snow day in all 2016.
Outside Now
Air Density:
1.255 kg/m3
Cloud Height:

5562 ft

HIGHS:
LOWS:
100.8°F
30-Jul-2015
-9.0°F
13-Jan-2013
Day Time Records
82.8 F on: Jun 25 2015
13.1F on: Jan 13 2013
Night Time Records
72.5F on: Jul 11 2014
1.6F on: Jan 13 2013
ICN:1 ISS:Ok CON:4.2 RCP:100%

Chandler Burning Index
Currently:
-1.0 at 00:30 AM

1 Rain season: July 1st to June 30th. 2 Snow season July 1st to June 30th. 3 Snow manually measured

NWS Weather Forecast - Today's and Tonight's Outlook
Today


Sunny

Hi

66 °F

NWS forecast: Sunny, with a high near 66. Calm wind becoming southwest 5 to 9 mph in the afternoon.
Local station forecast:

Increasing clouds with little temp. change.

Tonight


Mostly Clear

Lo

37 °F

NWS forecast: Mostly clear, with a low around 37. Southwest wind 5 to 9 mph becoming calm.
NWS Short Term Weather Forecast
Tonight


Mostly Clear

Lo

37 °F

Saturday


Sunny

Hi

64 °F

Saturday
Night

Mostly Clear

Lo

36 °F

Sunday


Partly Sunny

Hi

60 °F

Sunday
Night

Slight Chance
Rain

Lo

37 °F

Monday


Chance
Showers

Hi

56 °F

Monday
Night

Chance
Showers

Lo

38 °F

Tuesday


Showers
Likely

Hi

50 °F
Chester, CA Forecast en Español
NWS Hourly Weather Graph For Chester, CA The Next 48 Hours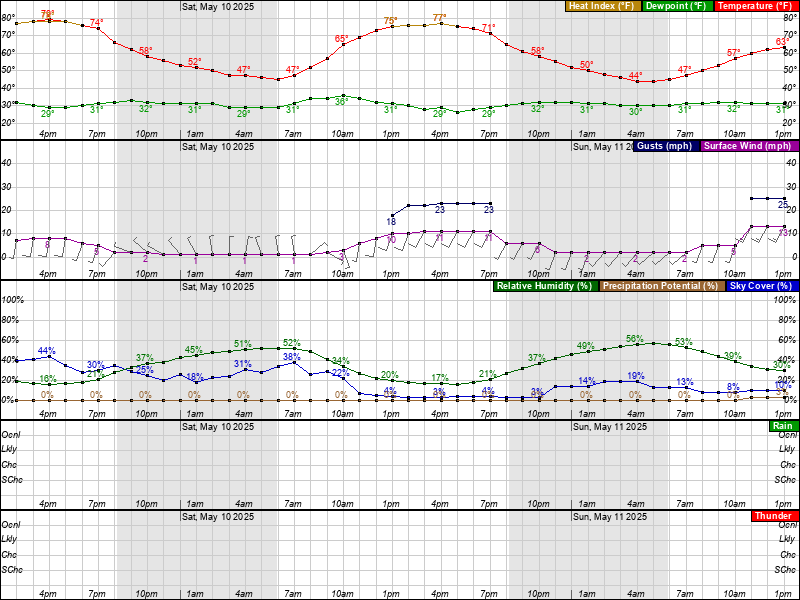 Meteogram courtesy of NOAA-National Weather Service
---
SAC - National Weather Service On Facebook
RENO - National Weather Service On Facebook


Please Donate to help maintain the operation of this Weather Station!
This weather site is a hobby and involves a considerable expenditure of time and money. Your contribution will help continue operation and maintenance of this weather station! You can use the donate button below to make a secure donation with PayPal. No amount is too small. Donations can also be made securely using any of the major credit cards.
If you find the Chester/Lake Almanor Weather Website useful to you, please consider making a small donation to help offset the routine expenses of operation of this website.
Thanks for your kind support!
---
Today's Weather Story
Warm temperatures with 100+ degree weather will continue through Saturday, with slightly cooler temperatures expected Sunday and Monday. Maximum temperatures will be about 10-15 degrees or more above normal this week.
---
Useful Weather Links
Area Forecast Discussion
California State Weather Data
California WeatherShare Temperatures
California Hourly Weather Roundup
NWS Mesonet Observations
Precipitation Information Resources
Drought Information Resources
Northern California Climate Summaries
NOAA's El Niño Portal
---
National Outlook
Click Here for-----> NOAA Watch - U.S. Daily Briefing
Click Here for-----> NOAA/NWS Storm Prediction Center
Click Here for-----> NOAA Watch - Headlines
Click Here for-----> NOAA - Daily Weather Maps
Severe storms possible in Midwest
Bonnie brings heavy rain, gusty winds and dangerous rip currents to portions of the Southeast and Mid-Atlantic
Bonnie is slowly moving towards the Southeast coast. As it does, Bonnie will bring heavy rain and gusty winds to portions of the southeastern United States. Life-threatening surf and rip currents will bring danger to coastal waters this holiday weekend. Isolated flash flooding will be possible in portions of the Carolinas and Virginia through Sunday.
...Deteriorating weather conditions for the Southeast and Mid-Atlantic...
...Numerous showers and storms for the Plains and Rockies...
A change in the weather is coming to the Southeast coast and the Mid-Atlantic region for the remainder of the Memorial Day weekend with a tropical depression headed towards the South Carolina coast. Multiple rounds of showers and occasional thunderstorms are likely to move inland and affect areas from Georgia to the Delmarva Peninsula by Sunday afternoon. Some areas may get a few inches of rain from this event, leading to some run-off and localized flooding issues. The wind impacts should be minimal though.
Heavy rainfall is also expected for the southern plains by Sunday night and Memorial Day with an additional surge of moisture returning northward from the Gulf of Mexico. The southern end of a weakening cold front will stall across Oklahoma and Kansas, keeping scattered showers and thunderstorms plentiful in that area. Local flash flooding will also be possible for portions of the southern and central plains.
Showers and storms will also be possible across the Rockies through the next couple days as a frontal system moves slowly east across the region and weakens. A secondary Pacific cold front is forecast to move across the Intermountain on Sunday and into Monday, bringing another round of scattered showers and storms.
Short Range Forecast Graphic available Here.
NOTE: The HPC National Forecast Map above, provides an overview of today's national weather with an emphasis on certain hazardous and significant weather. It summarizes forecasts from several NCEP Service Centers including the Storm Prediction Center (for severe thunderstorm and tornado outlooks), the National Hurricane Center (for tropical storm and hurricane forecasts), and the Hydrometeorological Prediction Center (for information concerning heavy rainfall, flooding, winter weather, and general weather). With an overlaid frontal forecast, this display serves as a great overview of the weather for the current day! The National Forecast Map is prepared twice daily at the Hydrometeorological Prediction Center.
U.S. Severe Weather Alerts Map
NWS Weather And Hazards Data Viewer
---
---
Weather History for October 21
-->
---
Star Gazers 1619 - May 23rd - 29th, 2016
"Saturn"
For more on the Sun, Moon and the Stars, Click Here!
---
---
News of the Day
Click Here for Google California News
Click Here for More California News